This procedure is a diagnostic process to identify the source of the poor or soft braking =issues and then correct the issue.
Please note these procedures are best performed by trained e-bike repair shops. Some of these repairs require specialized tools and skills that e-bike shops have.
(1) Is there play in the brake lever?
If yes, the brake lever bushings will need to be replaced. Please follow the procedure located here.
(2) Is the brake movement uneven, or is the brake point on the lever actuation changing, or are the brake pads not disengaging the rotor after actuation? If so, follow the procedure in the video below to purge any air from the brake system.
(3) Are the brake pads new?
If yes, please follow the procedure in the video below to break in the brakes, or follow the service bulletin here.
(4) If none of the solutions above apply, we next have to remove the brake assemblies for inspection. Please note that when handling brake pads, you should always wear gloves to avoid contaminating them. To remove the brakes, follow the video below.
Tools and supplies required;
Rubber gloves
Bike multitool
Torque wrench
plastic tire lever
isopropyl alchohol
(5) Once the brake mechanism is removed, inspect the pads for glazing. If there is glazing on the pads, you can replace them per the above video or you can re-install them onto the bike and follow the video below to deglaze them.
(6) Inspect the brake pads for oil or other contamination. If pads are contaminated with a braking system hydraulic oil leak, please bring the bike to an e-bike shop for repair by a qualified technician. Replace the brake pads per the procedures in the video in step 4.
(7) Inspect the brake pads for excessive wear. Some pads have a circular wear indicator which if it's showing the pads are worn out. Measure the pad and pad metall pad backing that should me 2.5 mm (3/32")or thicker per Figure 8 below. If the pads measure under the 2.5 mm thickness, replace the pads per the video in step 4.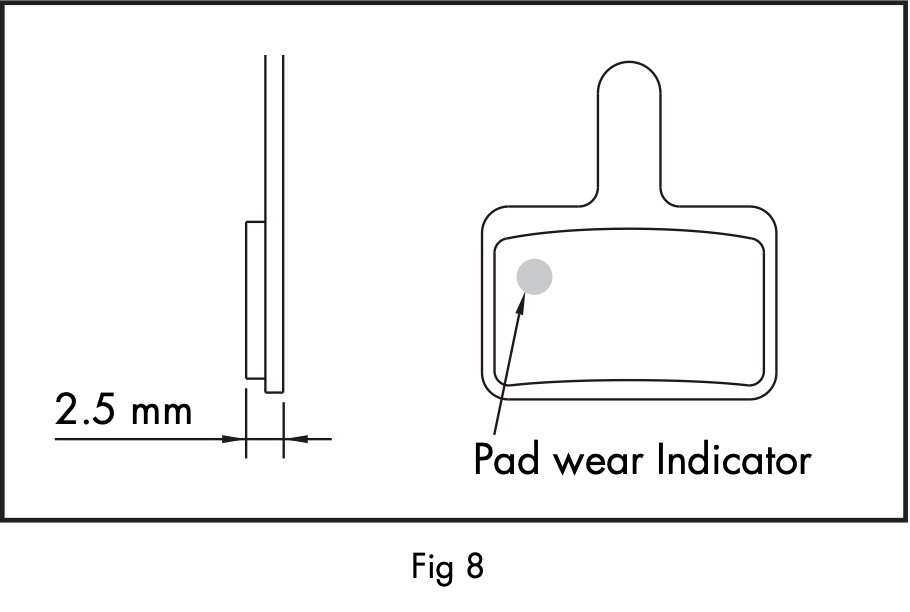 Learn more about keeping your bike in optimal condition.