Available Sizes:
The MOSH/CTY, RUSH/CTY and RUSH/CTY SPEED* models are available in four sizes: small, medium, large and extra-large. The RUSH/CTY STEP-THRU is offered in small, medium, and large sizes. The MOSH/TRIBUTE was made only in medium and large.
Please note that each sized bike has different frame sizing that can be determined on the Geometry Measurements Article. Seat posts are adjustable on each bike. Handlebars are currently not adjustable on any model.
Assessing Your Size:
There are a few tools to help you determine your ideal size.
Dealership Test Ride: Visiting a participating Serial 1 Dealership to test out different sizes will give the best understanding of which size will fit your needs and what is most comfortable for your riding situation.
Sizing Guide (US Website): The sizing guide on the US website gives detailed measurements that can help find the optimal size for a cyclist. This guide is located on the model pages right below the "Buy Now" button. If you click the "Sizing Guide" link, you will see a section that asks for you to input your inseam, cockpit reach, and height. Based on these measurements the tool will output the correct size for you. You can also click the "How To Measure ?" and find instructions on how to determine each of your measurements. This Sizing Guide is based off an average cyclist's body posture. We have noticed many of our customers prefer to size up based on this sizing chart. Sizing up gives the rider a more upright riding posture as the handlebar height increases as you size up.
Simple Sizing Chart: This simple sizing chart can be a good starting point as to which bike size will fit you best. This guide only takes into account the height of the customer.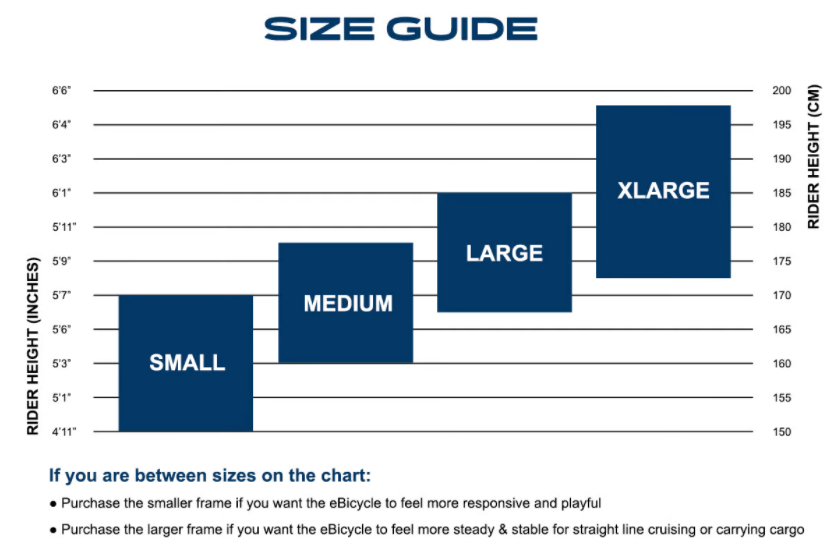 In-between Sizes:
Many customers find that they can fit on multiple sized bikes. If you are in-between sizes, you should assess size based on how you want to ride your eBicycle. If you want more sporty handling and a bike that is more responsive and playful, you should size down. If you are looking for more stability or a bike that is good for straight line cruising or carrying cargo, you should size up. Similarly, those riders who want a more aggressive, bent-forward, aerodynamic position, should size down, while those who want to ride in greater comfort should size up.
**RUSH/CTY SPEED available in the US only for 2021.