Overview
Our Enviolo CVT (Continuous Variable Transmission) hub is found on our RUSH/CTY STEP THRU, RUSH/CTY, and RUSH/CTY SPEED models.
Video Summary:
Here is a video summary of connecting and using your Enviolo Hub. More details and information can be found below in the document.
Out of the Box Configuration
Serial 1 has performed extensive testing and real-world riding to provide the optimum Enviolo hub settings for most riders, as pre-configured and loaded during production. These settings should not be necessary for users to modify out of the box. However, if you would like to access additional configuration options that are available within the Enviolo hub, further information is below. Please note that Serial 1 is not involved in the creation nor maintenance of the Enviolo app or capabilities. Any and all support beyond what's provided below will need to go through Enviolo directly.
Downloading the App
Please select from the following options to download the Enviolo AUTOMATiQ app from your preferred app store.
iOS App Store: https://apps.apple.com/us/app/enviolo-automatiq/id1451614500
Google Play: https://play.google.com/store/apps/details?id=com.enviolo
Connecting to Your Device
1. Make sure your device's Bluetooth pairing is enabled and your Serial 1 eBike is turned on. It is easiest to perform this with only one Serial 1 eBike powered on at a time. If multiple eBikes are present it could cause user confusion on the app connection screen.
2. Press and hold the small white button on the hub interface (located at the rear-end of the bike on the belt side) until it begins flashing blue (this takes about three seconds).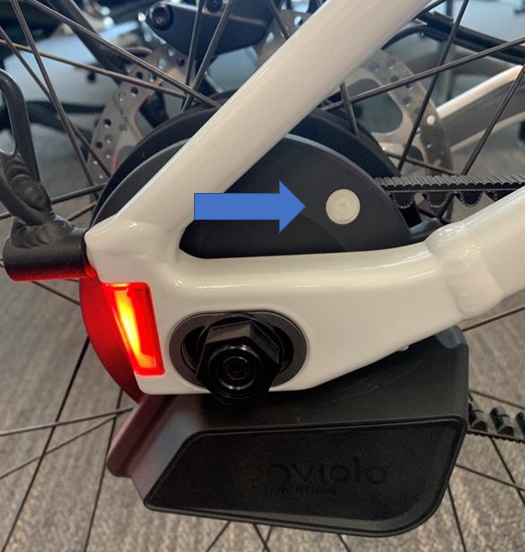 3. Open the Enviolo app and select your device from the "Devices Found" listing (example HI_SP_2049002248 in picture below)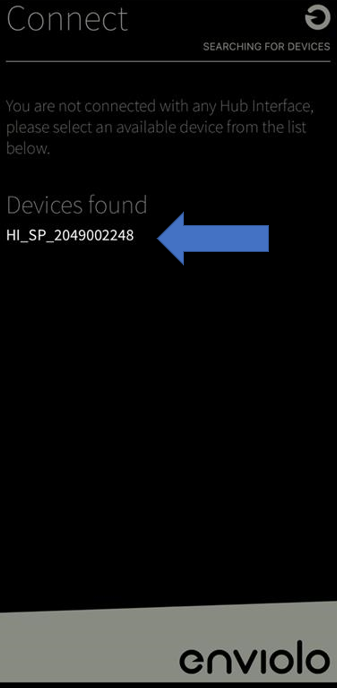 4. Once you connect your bike to your device, the app will automatically take you to the "Logistics" page where you may enter your personal data for your device. Entering this data is not necessary for managing the hub. To exit the Logistics page, click the X on the top right corner of your screen.
**Please note the first time you connect to your Enviolo App you may need to update your Enviolo Hub (see section below).
5. On the home screen you will see four options to choose from. (Configuration, Diagnostics, Logistics, and Dashboard).
**Please note you do NOT need to login or register for an account. This is for dealers and is not applicable to customers.
Color Display on the Physical white button on the hub.
-Blue Light: Hub is connected to a phone via Bluetooth connection
-Flashing Blue Light: Hub is in pairing mode, awaiting a Bluetooth connection
-Flashing Green Light: Bike is in reverse, OR bike is being pedaled.
-Flashing Red Light: Bike is in motion, regardless of pedaling or free-riding
-Flashing Red and Green Lights: Bike is asking to be recalibrated.
**Note that multiple colors may be flashing if multiple actions are being performed at the same time.
Updating Your Enviolo Hub
The first time you log into the Enviolo app the device may ask you to download the latest version of the hub software. Doing so should only take 2-5 minutes depending on your internet connection. Once you download the latest software update for your Enviolo hub, you may proceed to your Enviolo Home screen on the app.
**In some instances hubs may have trouble reconnecting to your phone after an update is performed. If this happens, please turn off your bike and exit out of the Enviolo app on your phone. After a few seconds, turn your bike back on and follow the steps listed above under "Connecting Your Device." In some cases you may also need to "forget" your Enviolo hub in your Bluetooth settings before attempting to pair the device again.
Enviolo Pairing Video
Enviolo has created a general video walkthrough on Downloading the App and Connecting the Device.